Product Description
Sliding Shower enclosure Arkansas is characterized by a single/double door smoothly sliding thanks to 8 shower door runner rollers. Excellent solution in terms of both aesthetics and functionality, it consists of 6mm tick tempered glass, that thanks to a particular manufacturing process is heat resistant, harder than normal glass and breaks safely, reducing the risk of injury.
Features:
Shower enclosures 1000mm, 1100mm, 1200mm consist of 1 fixed panel and 1 side with sliding door
Shower enclosures 1300mm, 1400mm, 1500mm consist of 2 fixed panels and 2 sliding doors
Sliding system of 8 (1000mm, 1100mm, 1200mm) or 16 (1300mm, 1400mm, 1500mm) shower door runner rollers
6mm Tempered safety glass
Anodised aluminium profiles with a chrome finish
Magnetic closure
Flap watertight seals on fixed panels and sliding doors
Chrome steel handles (height from the ground 1000 mm)
Reversible glass panels: they can be fitted on the LEFT or on the RIGHT hand side
Detachable doors for easy cleaning
Tolerance: 20mm out-of-the-true-wall adjustable profile
Possibility to add up to 2 compensation profiles for each side for a total of 80 mm extension
Shower tray not included
CE certified product according to the new Regulation (EU) No 305/2011 CPR
Two-year warranty
Should you require any further information, please do not hesitate to contact us directly. We are always here to help you.
| | | | | | |
| --- | --- | --- | --- | --- | --- |
| Size | Adjustment | Opening | Fixed Door | Sliding Door | Height |
| 1000 mm | from 980 to 1020 mm | 390 mm | 1 | 1 | 1850 or 2000 mm |
| 1100 mm | from 1080 to 1120 mm | 440 mm | 1 | 1 | 1850 or 2000 mm |
| 1200 mm | from 1180 to 1220 mm | 490 mm | 1 | 1 | 1850 or 2000 mm |
| 1300 mm | from 1280 to 1320 mm | 480 mm | 2 | 2 | 1850 or 2000 mm |
| 1400 mm | from 1380 to 1420 mm | 530 mm | 2 | 2 | 1850 or 2000 mm |
| 1500 mm | from 1480 to 1520 mm | 580 mm | 2 | 2 | 1850 or 2000 mm |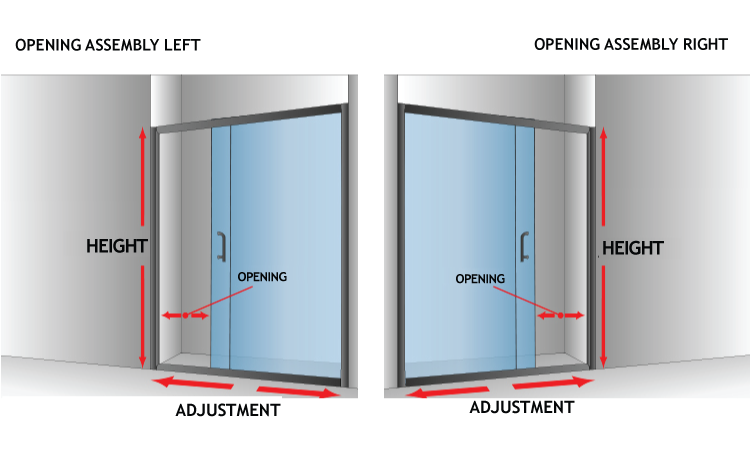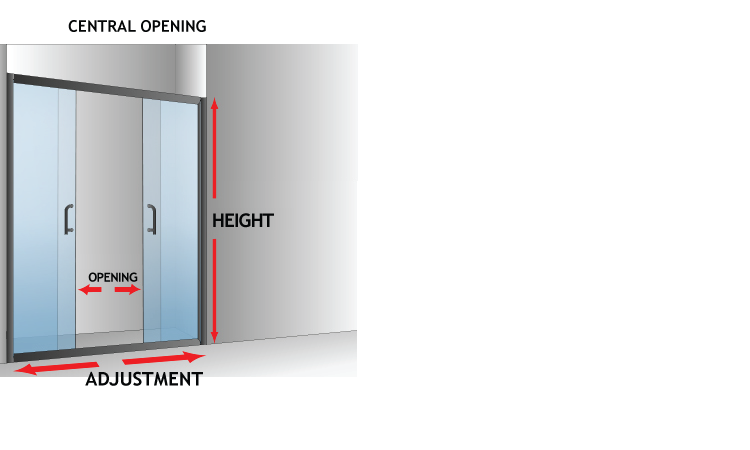 Reviews
Additional Information