Product Description
The Dakota Duo shower enclosure, with its simple but original structure and the greater glass surface area, appears as an innovative element that enhances the aesthetic perception of the room. Essential and clean lines characterizing the design of the handle integrated into the door profile and an aluminium frame providing excellent water holding capacity are only two of the several strengths of this contemporary style shower enclosure.
Features:
Shower enclosure 2 sides consists of 1 fixed panel and 1 side with pivot door (side 700)
Pivot door opening system
6mm Tempered safety glass
Anodised aluminium profiles with a chrome finish
Magnetic closure
Flap watertight seals on fixed panel
Chrome steel handle tastefully integrated into the door profile
Reversible glass panels: they can be fitted on the LEFT or on the RIGHT hand side
Tolerance: 20mm out-of-the-true-wall adjustable profile (see tab. below for more details)
Shower tray not included
CE certified product according to the new Regulation (EU) No 305/2011 CPR
Two-year warranty
Should you require any further information, please do not hesitate to contact us directly. We are always here to help you.
| | | | | |
| --- | --- | --- | --- | --- |
| Size | Adjustment A | Adjustment B | Opening | Height |
| 700x700 mm | from 680 to 700 mm | from 680 to 780 mm | 370 mm | 1850 o 2000 mm |
| 700x900 mm | from 680 to 700 mm | from 880 to 980 mm | 570 mm | 1850 o 2000 mm |
| 700x1000 mm | from 680 to 700 mm | from 980 to 1080 mm | 670 mm | 1850 o 2000 mm |
| 800x800 mm | from 780 to 800 mm | from 780 to 880 mm | 470 mm | 1850 o 2000 mm |
| 800x1000 mm | from 780 to 800 mm | from 980 to 1080 mm | 670 mm | 1850 o 2000 mm |
| 900x700 mm | from 900 to 880 mm | from 680 to 780 mm | 370 mm | 1850 o 2000 mm |
| 900x900 mm | from 900 to 900 mm | from 880 to 980 mm | 570 mm | 1850 o 2000 mm |
| 1000x700 mm | from 1000 to 680 mm | from 680 to 780 mm | 370 mm | 1850 o 2000 mm |
| 1000x800 mm | from 1000 to 780 mm | from 780 to 880 mm | 470 mm | 1850 o 2000 mm |
| 1000x1000 mm | from 1000 to 980 mm | from 980 to 1080 mm | 670 mm | 1850 o 2000 mm |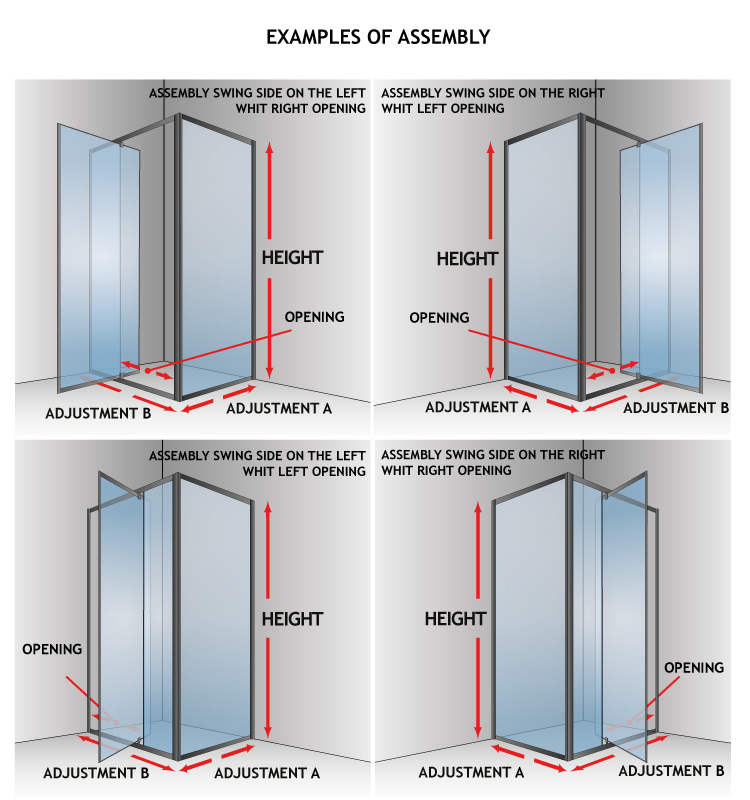 Reviews
Additional Information